Coil LIFTING MAGNETS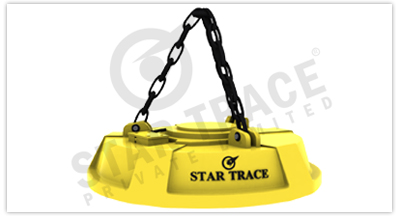 INTRODUCTION
STAR TRACE Electromagnets On/Off capability and be controlled in automated sheet metal handling system.
Through the application of controlled DC electrical Current, electromagnets offer controlled holding power and on- command release of ferrous steel parts.
Rectangular & Round Electromagnets:
Provide concentrated holding power and high responsiveness in manual or automatic applications.
Para11el pole Electromagnets:
Ideal for lifting or pick and place application where parts have uneven surfaces or odd shapes.They can be custom machined to specifically fit the applications.
Multi - pole Electromagnets:
Ideal for the handling of thick ferrous items such as steel plate,forgings,die castings and other non-flexing items.
STR ELECTROMAGNET FEATURES
1.Optimum temperature rise
2.24" standard leads
3.Tapped mounting holes
CUSTOM DESIGNS AND OPTIONS
1.Extended lead lengths & lead protection
2.Controlled holding power with optional variable power supplies
3.Selected card locations
4.Retractile cords
lifting
design
exporters
globally
india
coil
manufacturers
sale
magnets
suppliers
tamilnadu